It would appear that the sporadic propagation again this month has become even more infrequent, many days passing with no skip at all. It surely shows that along with a poor summer in the UK and solar minimum that things can only improve.
The start of month had spells of skip with 1,13,14,15,16,19,20,21,26,30,31,35,47,54,161,163 divisions as well as 109 division worked. I spoke with several 26 division stations and heard 26TM212 booming through.
The highlight of the month was the DX Super sunday on the 5th, luckily coinciding with the best propagation for the month. Many stations inc TM members made the effort and many divisions were worked throughout the EU. I also had a very nice QSO with 26TM062.
In the evening of the 5th I had a very unexpected contact with 2NY042 "joe" from my homebase, thanks Joe.
The next few days brought UK and close EU skip with some short hop about. On the 8th conditions lifted again and I QSO'd with "Mick" 26TM777. Thank you for the very nice cards.
Later on the 8th I also worked 26TM024 Dave portable 5/5 & 26TM022 Phil, 5/7.
Through to the middle of month were really flat spells with infrequent openings usually with much QSB.
On the 15th 108TM814 made a good contact with 54/16AT285/M especially given the conditions. Later that day 3 div was heard by me and worked by 163TM088, well done.
This trend of short openings continued for the rest of the month, on the 28th 26TM014 QSO'd 36AT102. Also 26TM108 worked 3ET123 on the 29th.
All in an unstable August with a few good days and well done to the TM members who made some excellent contacts.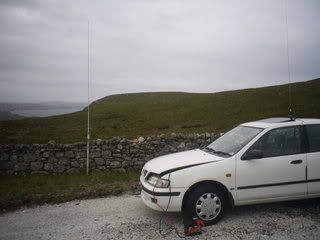 My portable set up on DX SS
Please contact me with your "highlights" etc and be inc in next months report.
73s & Good DX.
108TM742
Callum.