For this month levels continued to drop through September. With 21 consecutive days recorded with no sunspots. Sporadic openings have been at the lowest levels in 2007 so far.
The 1st to the 4th of the month raised some hopes with workable conditions including: 1,13,14,16,26,30,36,47,56,163,169 divisions. Much QSB but very nice to hear stations calling again.
Then 2 days without a single voice breaking the squelch!
Some odd calls from 14 and 30 division amongst hours of silence from the 7th to the 9th.
Then on the 9th 26TM022 "Phil" broke the trend and worked 3 division and 21 division amongst others whilst static mobile.
The following week was very patchy with some EU divisions in for short spells. On the 16th I had a QSO with 19TM145 "Andy", which was followed by 3 division calling amongst the EU divisions.
Again several quiet days followed until the 21st where 104 div was worked and 2OT001 "Jon" reported hearing 26TM321 "George".
The 22nd and 23rd brought 3 division again with strong signals on 27.555 & 27.540, as well as many other EU divisions received. 26TM014 "Andrew" also managed a short QSO with 161TM001 "Lucas". On the 25th both myself and 26TM123 worked 51PO02, a first for me into that division. Through to the end of the month Brazil, France and Spain were received in short spells but not too stable.
Again this month one of the most active days was the DX SuperSunday event on the 30th, many stations went portable and several were active from homebased. Some low levels of skip around lunchtime, with the band closing by mid afternoon only to re open in the evening for a spell with some stations attempting contact with 3 div. Many groundwave contacts were made and a great day was had by all participants.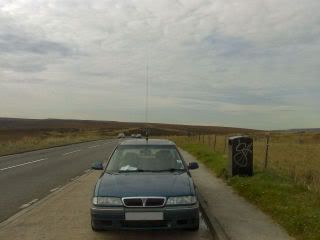 26TM256 "Dave", At a top DX and GW spot.

26TM333 "Chris", Schooling the sheep in the art of DX.
Please contact me with your "highlights" etc and be inc in next months report.
73s & Good DX.
108TM742
Callum.